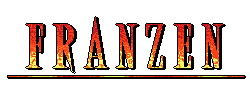 Franzen
A downloadable game for Windows
Game Features:
Snappy turn-based combat with a unique leveling system, grind free!

Fast-paced, short and sweet story.

Vibrant world full of diverse enemies and items.

The perfect Micro-RPG!
Story Synopsis:

"Branzen. The Holy Lands. A world of Light and Dark. Flesh and Metal. The massive city, Akon, created by his holiness, Akanakon. A united, true empire. Or so it would seem..."

"Eighteen years ago, a terrible event happened. 'The Scream', a massive tear from which ceaseless darkness spewed. This darkness corrupts the mind and body, twisting those affected into monsters. 'Daemons', they call them."

Eighteen years since the 'Decade of Darkness', The Scream still stains the skies of Branzen. Franz and Lefsa Dellia, amateur Technomancers, are studying this strange phenomena, in an attempt to prove that it's expanding. Rapidly.

"Now, only one thing is true. The sun is setting on this world."
Uncover the mysteries and dark secrets of Branzen.

Tour a vast world of varying cultures.

Rise to power as you navigate a web of bureaucracy and corruption.

Meet charming party members who will join you on your quest.

Read the history of Branzen and its many kings.

Explore the true meaning of Empathy.
Download
Click download now to get access to the following files:
Franzen Source Code
169 MB